The entire existing production of Schipa Sr.
has been collected by Father Richard Cantrell, Texas, in 50 years of work.
The collection of 31 cd, discovered and encouraged by Schipa Jr.,
is now published by NIREO with contributions of:
Fondazione Tito Schipa, Associazione Tito Schipa, Comune and Provincia of Lecce,
Conservatorio Tito Schipa, Archivio Schipa of Gianni Carluccio.
Everything recorded in studio and home, public or private, during his career,
including not published takes and fantastic inedits,
in chronological order and full of dates and datas,
plus a refined brochure with contributions of
Francesco Libetta, Eraldo Martucci, Giancarlo Landini,
Giorgio Gualerzi, Gianni Carluccio and a vast photographic documentation.
info: info2@titoschipa.it

xxx
New!
SONGS OF SACRED INSPIRATION
CD with the complete sacred recordings, 1919 to 1962
produced by Rev. Richard Cantrell, Texas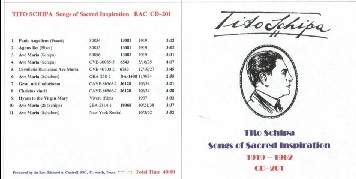 New!
SINGING LESSONS BY TITOSCHIPA!
In 2 musicassettes a selection of basic vocalizings + pf accompaniment for your exercises

VHS VIDEOS:
2 shorts - 1929
(productions USA, used as intermission between shows in the cinema theaters):
M'APPARI' (Martha, in costume, live)
PRINCESITA (Spanish song, with piano, live)
(Last about 3 minutes each)
FILMS inVHS (pal):
VIVERE (1937)
TERRA DI FUOCO (1938)
CHI E' PIU' FELICE DI ME (1938)
IN CERCA DI FELICITA' (1943) (bad quality)
FOLLIE PER L'OPERA (1948)
IL CAVALIERE DEL SOGNO
(L'INFERNO DEGLI AMANTI or LIFE OF DONIZETTI) (1946)
TROIS HOMMES EN HABIT (I SING FOR YOU ALONE) (1932)
IL FARO SULLA LAGUNA (I MISTERI DI VENEZIA) (1950)
TV DOCUMENTARIES IN VHS (pal):
RITRATTI CONTEMPORANEI (1958?)
Two performances as a honour guest at IL MUSICHIERE (1956 e 1957?)
"TITO SCHIPA, UN ITALIANO DEL MONDO"
documentary written and directed by Tito Schipa Jr. for RAI
BOOKS

TITO SCHIPA by Tito Schipa Jr. (biography of Schipa Sr in italian,
de-luxe edition, upgraded and renewed, 300 pictures, cd)

SCHIPA, a biography by Tito Schipa, Jr. (biography of Schipa Sr. in english with CD)
(see www.baskervillepublishers.com)
MUSICASSETTES:
"L'USIGNOLO DI LECCE", the complete biography as a radio serie
produced by RAI, written directed and presented by Tito Schipa Jr.
with 30 actors e the orchestra of Provincia di Lecce conducted by da Ottavio Ziino
13 episodes in 7 cassettes.
Tito Schipa sings TANGOS and SOUTH AMERICAN RHYTMS
"WERTHER", radio broadcast from Rome Teatro dell'Opera, February 1948
Bad sound quality, artistic level astonishing
Informations: info2@titoschipa.it
---
---